Our Workplace Culture
Reasons to Believe is an international, outreach-oriented, science apologetics ministry. We exist to inspire confident faith in the personal, transcendent God revealed in both Scripture and nature. We are seeking talented, innovative, mission-minded individuals who desire to use their God-given strengths in a challenging, collaborative, creative, fun, and thriving work environment. Join the RTB team and be part of a tightly knit community where work is life-giving, where staff members are valued for their unique contributions, where creativity and out-of-the-box thinking are encouraged, and where staff development and growth are a key to success.
TESTIMONIES
"People are often curious about where I work. Sometimes it's because they see a picture of a group of my coworkers sporting genuine smiles and plates full of delicious food. Sometimes it's because they wonder what sort of employer would allow their employees to have pink hair. Sometimes it's because they find an RTB video, podcast, or article shared on social media and wonder how such thoughtful, intelligent content can come from joyful, relatable, sometimes goofy people. From the asker's experience, coworkers can't genuinely like each other, people with brightly colored hair can't be taken seriously, and the cerebral are stodgy and dull. But the truth is RTB is a place that cherishes its staff like family, values expression and creativity, and drives science-faith conversations, always with gentleness and respect. Yes, it's possible to work hard and love what you do. We get to do Kingdom work in a fun and fulfilling environment. What more can you ask for? Doughnuts? We've got those too!"
"There are lots of places to work or even to have a decent career. If you find a Christian organization that shares your values, the satisfaction level goes higher still. Reasons to Believe exceeds even that. RTB fosters an environment where your skills are realized, your mind is engaged, your coworkers will become dear friends, and your work will be extremely satisfying as you quickly discover how God uses your talents to accomplish his purposes in this world. Join the RTB team and find out why the turnover is so low!"
"Before I was an employee, I was very impressed with the passionate work Reasons to Believe (RTB) did. After being hired, I soon realized that RTB puts that same passion into its employees. RTB constantly strives to be a Christ-centered workplace by feeding into employees professional and spiritual growth. Whether it's through attending events, reading RTB books, or dialoguing with the scholars, I often find myself learning more and coming closer to God through the work done here."
"Since joining the Reasons to Believe team, I have grown in so many ways. This is because RTB fosters an environment of learning and growing in your career and spiritual journey. Whether we are praying together or celebrating milestones, the culture here speaks to the relationships we have with each other. Everyone here is treated like family and work/life balance is valued. From the top leadership down, meaningful relationships have formed, and we all have the one purpose in mind, serving Christ with our talents."
"RTB prizes ethical virtue and moral conduct among its employees. Working in an environment that encourages its workers to pursue moral virtue is both challenging and rewarding. While I am far from a perfect person, I appreciate RTB inspiring me to make personal integrity a part of everything I do. RTB asks all its employees to work together as a team. Thus, deference, cooperation, and sacrifice are viewed as critical skills and qualities. I appreciate this team-oriented work environment because its importance carries over into other areas of life. And RTB encourages and gives its employees opportunities to grow as individuals and to develop their careers. This emphasis upon growth has allowed RTB to maintain many of its employees over the long term."
"The employees here at RTB not only work diligently toward the mission of RTB, but also live it in their daily lives. Our distinctive core values are evident in what we say, how we say it, and how we live it. Run into an RTB employee off hours and you'll see the culture and character of RTB evident in their lives. Our mission is to spread the Christian gospel, and that is being done both corporately as well as personally."
BEST CHRISTIAN WORKPLACE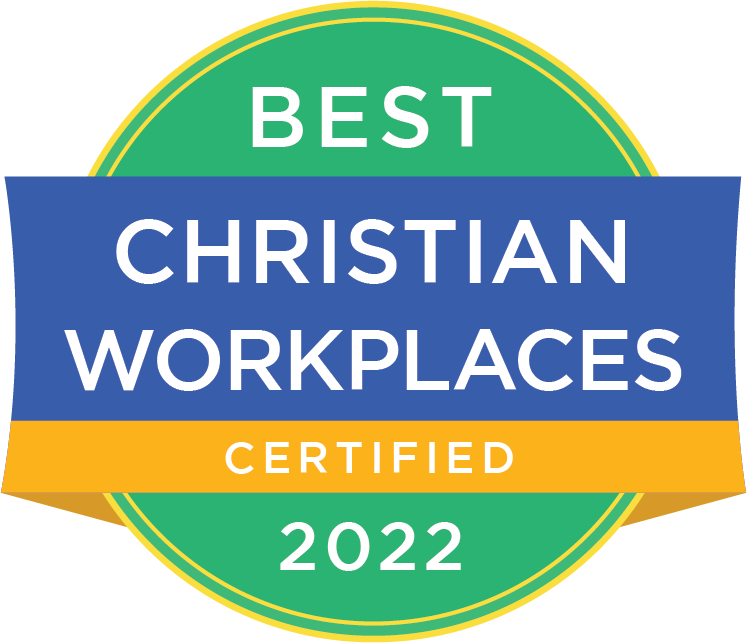 Company Benefits
Health
Medical
Vision
Dental
Flexible spending accounts
Long-term disability
Supplemental short-term disability
Employee life insurance
Supplemental life
Accidental death and dismemberment
(AD&D) insurance

Work/Life Balance
Flexible work schedules
Vacation
Sick leave
Personal days
Holidays
Bereavement
Retirement
per company policy

Professional Development
and Training
All-staff training and development
Supervisor training
Team development
Outings
We love to celebrate and have fun! Staff
outings, potlucks, parties, and fellowship are a
regular part of RTB life.